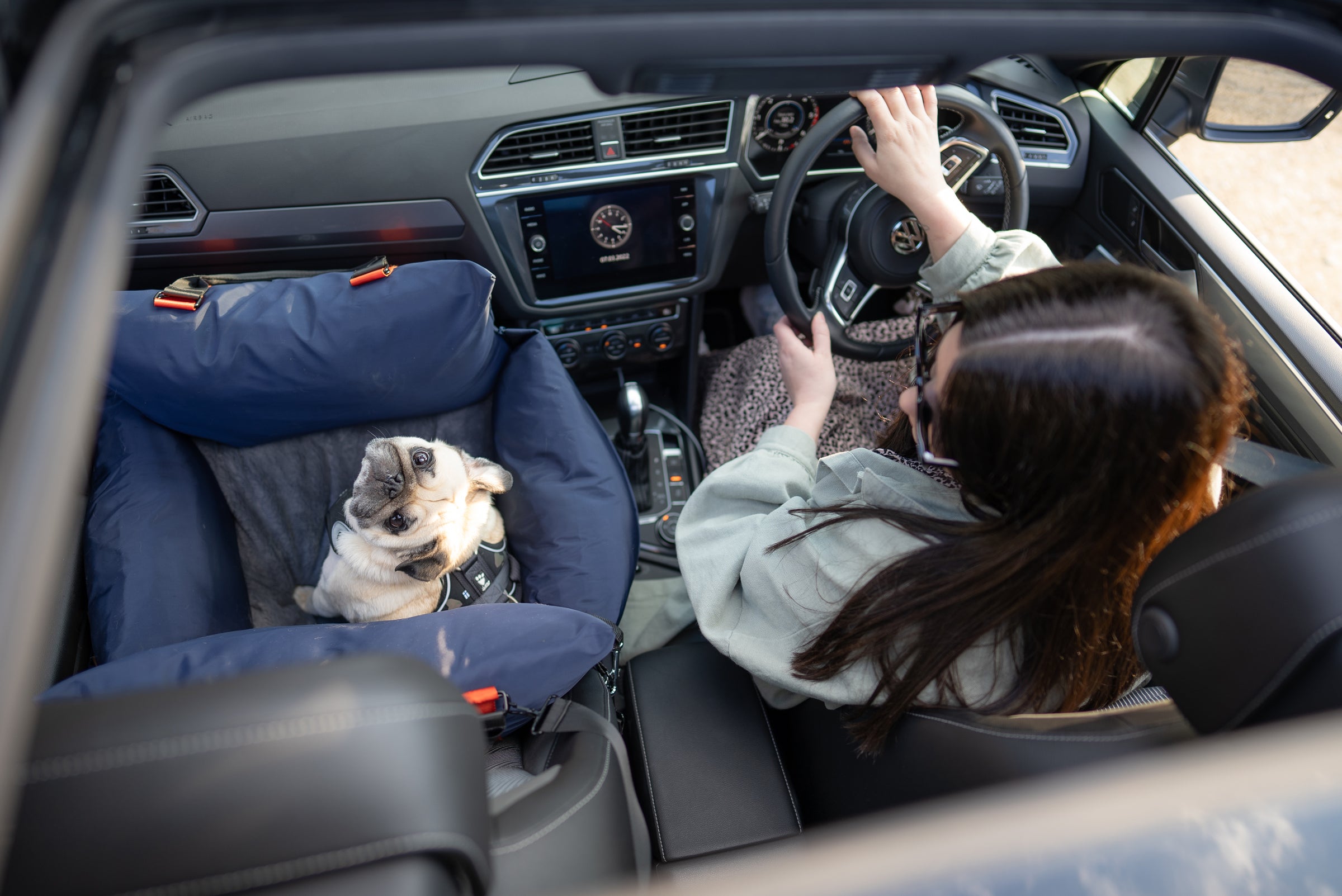 Adventure knows no boundaries
With the Dog Pod, we've reimagined the concept of a dog bed, breaking free from the limitations of traditional designs.

Why should your pup's comfort and safety be confined to a single room?

Have you noticed this?
Is your dog fidgeting in the car? Are they whining or constantly trying to look out of the window?
Chances are they are not enjoying the ride...

Not to worry, Luther Bennett has the solution.
Conquer car Anxiety
Dogs suffer and feel nauseous in the car due to motion sickness. Their small paws make it difficult to counterbalance the vehicle's movement.
It's time for change
Witness your dog sink into the deep pockets of the Pod, embracing the journey with pure bliss.

Each Pod is packed full of stuffing that will absorb every little bump in the road.

Allowing your dog to kick back and enjoy the ride and for you to focus on the road.
if YOU'RE ON THE FENCE, THESE ARE WORTH A READ
★★★★★

5 star product, 5 star customer service!

Arrived timed delivery the day after placing order, thus exceeding my expectations.

My Italian greyhound is very nervous of being in the car but I noticed she'd fallen asleep within 5 minutes of the journey.
She looked so cosy we wished we could travel in such luxury too!

Highly recommend, totally delighted, thank you!

ABI

TRUSTPILOT VERIFIED
★★★★★

Really good service and great quality product. Avoid cheaper replicas.

STEVE

TRUSTPILOT VERIFIED
★★★★★

We received our Travel Dog Pod last week and Monty absolutely loves it. I am so happy to see him so much more relaxed and comfortable in the car when we are out and about. I feel way more reassured around his safety and comfort when on longer journeys. He really snuggles in or is just happy to sit and look out of the window - a very chilled little doggie! I really would recommend this if you feel your dog would benefit from this high quality, beautiful product.

MELANIE THOMAS

TRUSTPILOT VERIFIED
★★★★★

Quick delivery and a really beautiful, stylish product. My dog Dexter was always very sick / frightened in the car before - basically no other seating arrangement other than his crate worked. Until Luther Bennett came along ... He absolutely loves it. It's completely revolutionised how we travel now. Worth every penny.

Anastasia Nicholl

TRUSTPILOT VERIFED
★★★★★

Absolutely love this company and their products.

We love them so much we have returned time after time.
We have 4 regular travel pods, 2 of the collar and lead sets, and now one of the XL travel pods for longer journeys.

The dogs are not only super comfortable but they are safe and secure everything a dog mum wants to ensure.
The customer service is top notch too.

CUSTOMER

TRUSTPILOT VERIFIED