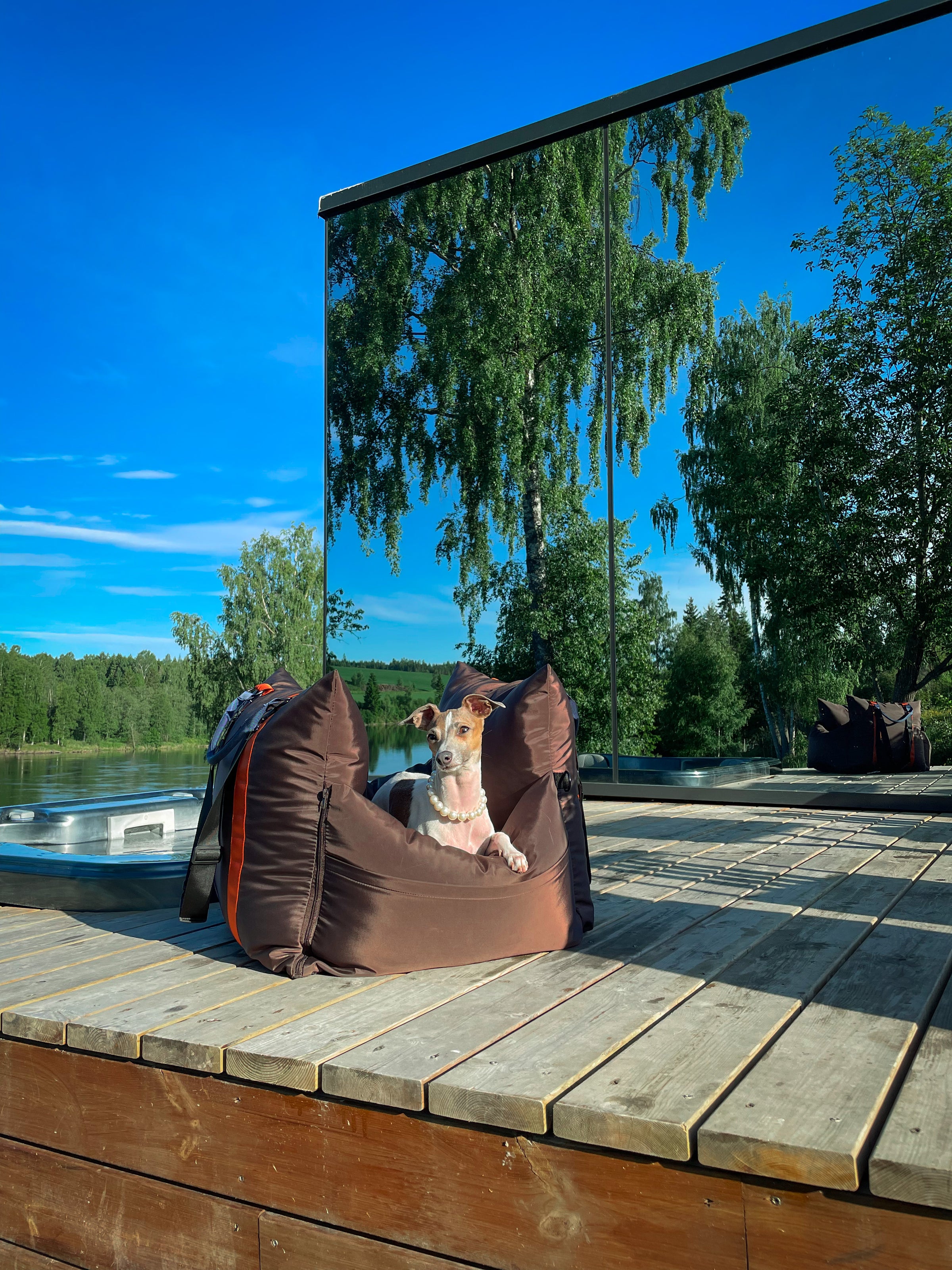 Travel Together
Zero Limits
Gear up your fur baby for adventures!
EXPLORE THE BEST DOG TRAVEL ACCESSORIES
Elevate your travel game with the ultimate dog
travel accessories from Luther Bennett. We're here to enrich the bond between
you and your furry companion, making every journey a cherished memory that
lasts a lifetime! Your dog sticks by your side through life's ups and downs —
they deserve nothing but unparalleled comfort and style. Plan your next
adventure with assurance; we've got your pet's luxury covered.
STRESS-FREE CAR TRAVEL: We have the solution
Motion sickness: it's the top culprit behind your dog's in-car jitters. And we know
Erase the unease by outfitting your vehicle with the perfect dog car essentials from Luther Bennett. We transform stressful rides into joy-filled journeys,

Browse our Dog Pod Collection and equip yourself with dog car
safety products and accessories that redefine canine comfort. 🐶🚗
i WANT TO UPGRADE MY RIDE
A PORTABLE SAFE SPACE - Say hello to The Luther Lounger
Elevate your pet's comfort anywhere you go with
the Luther Bennett Luther Lounger.
As a pinnacle in dog travel essentials, this
luxurious dog travel mat ensures that your treasured companion experiences unparalleled comfort and relaxation. The Luther Lounger effortlessly transforms every outing into a serene, enjoyable journey.
Shop Now
If you are unsure, we are only an email or phone call away!
There are two sizes of dog car travel solutions to choose from:
- The Travel Dog Pod
- The XL Pet Pod
The Travel Dog Pod is suitable for use as a bed and car seat for dogs no larger than 16kg. 
If it is only going to be used as a car seat, then you could fit a slightly larger dog in there, but as a bed, they will likely need more legroom.
For example, a Staffordshire Bull Terrier or Female whippet or a Golden Doodle would all be great examples of pups who use our pods in the car. However, for a permanent bed, they may want the XL Pet Pod.
The XL Pet Pod is suitable for dogs up to 50 kg
If you have questions about the suitability of our dog car travel accessories, contact us by email at info@lutherbennett.com
We will be more than happy to find the product that best suits your pets needs!
Ordering from our dog travel accessories collection is easy. We send packages every day all over Europe, and the UK
- FREE & EXPRESS UK 🚚
- Enjoy £10 EUROPEAN😱
- 2 DAY USA SHIPPING 🇺🇸
EUROPEAN CUSTOMS FEES ARE ALWAYS PAID BY THE RECEIVER
If you need help with your order or have any questions or need a shipping rate for anywhere else, please feel free to contact us by emailing customer service at info@mylutherbennett.com
While we cannot guarantee that it will solve the problem.
We are 99% sure it will.
Over the years, we helped thousands of dogs conquer car anxiety with our dog travel essentials.
But don't just take our word for it. Here's what our customers are saying.

Click to see our happy customers.


We are very selective about what we manufacture and the design of our dog car accessories. Each of our products fits in line with the vision, mission and morals of the brand.
Currently, we sell a selection of Dog Pods with various colours and sizes, Luther Loungers, Luxury Collar & Lead Sets and some of the world's comfiest hoodies!
Luther Bennett prioritizes your furry friend's
comfort and safety. We offer a wide range of dog
travel accessories including travel dog pods, loungers, collar and leash
sets, dog pod straps, and more that ensure your dog's safety while traveling.


We have safety harnesses, Dog Coats and Drying Towels on the way!